Stephen Reeves was born in Glasgow in 1926. He was bestowed the title of Mr. America in 1947 and Mr. Universe in 1950, and he starred in several motion pictures.
Stan Lynde is famous for his globally syndicated comic strip Rick O'Shay, which he created in 1958. He was originally from Billings, born in 1931.
Myrna Loy was born in Radersburg in 1905 and acted in more than 100 films between 1925 and 1981. She was honored in 1991 with the opening of the Myrna Loy Center for the Performing and Media Arts in Helena.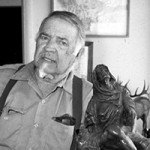 Robert Macfie Scriver is known for his Western bronze work. He was born on the Blackfoot Indian Reservation at Browning in 1914.
Scot Schmidt was born in Helena in 1961. He was one of the "Extreme-6," a group of North American extreme skiers who popularized the sport and were among the best in the world during their prime.
Lones Wigger was a three-time Olympic medalist, born in 1931 in Great Falls. In 1964, his rifle shooting earned him a gold and silver medal, and he earned a second gold medal in the 1972 Summer Olympics.
Ivan Doig is an author best known for his memoir, This House of Sky: Landscapes of a Western Mind, which chronicles his early life in Montana. He was born in White Sulphur Springs in 1939 and later lived near Choteau.
Gary Cooper was born in 1901 in Helena. The son of a rancher, he experienced cowboy life firsthand and later won an academy award for his portrayal of Marshal Will Kane in High Noon.
David Lynch, born in Missoula in 1946, is a director, screenwriter, actor, and producer, known for films like Eraserhead and Mulholland Drive. In his wildly popular TV series, Twin Peaks, Montana is referenced often.
Chet Huntley of the evening news program The Huntley-Brinkley Report spent a great deal of time in Montana. He was born in Cardwell in 1911 and died in Big Sky in 1974.
Jeannette Rankin was born near Missoula in 1880, nine years before Montana became a state. She was the first woman to hold federal office in the country, elected to the House of Representatives in 1916, and again in 1940.