Illustrations by Lloyd Keels
There are more than 3,000 named lakes and reservoirs in Montana, but unless you own a boat, these are unlikely to provide the excitement you crave on your next family vacation. Lucky for you, the Treasure State's waterparks make it easy for the whole family to enjoy a thrilling day on the water.
Make a big splash in the Big Sky State this summer! Check out these eight waterparks, each with its unique brand of family fun.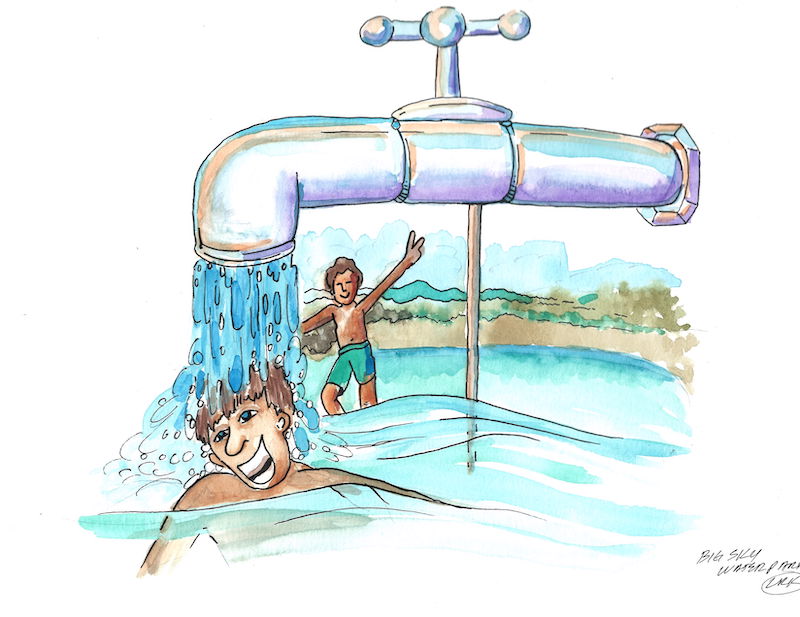 Big Sky Waterpark, Columbia Falls
In the heart of the Rockies, Big Sky Waterpark offers exciting attractions the whole family can enjoy, including ten water slides, a huge whirl pool, a kid's activity pool, mini golf, bumper cars, and more. Have a need for speed? Enjoy a plunge from the seven-story Geronimo slide!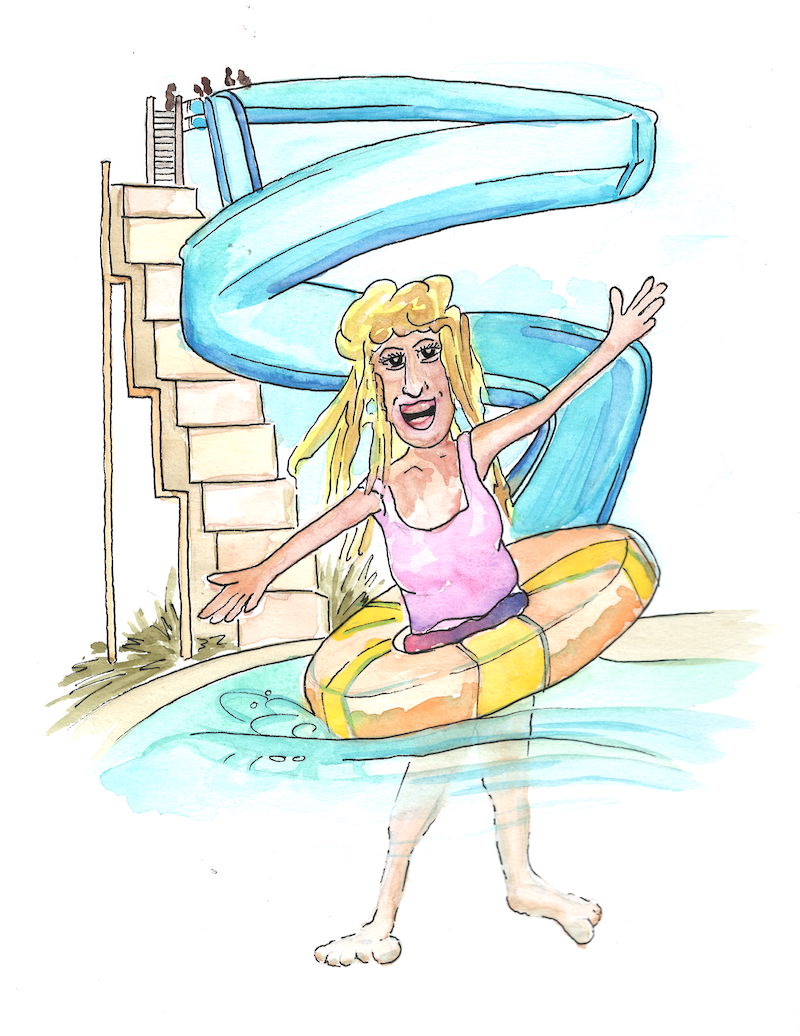 Last Chance Splash Waterpark and Pool, Helena
After five years of construction and $130,000, the 50-meter Memorial Park Pool was opened in 1953. In 2009, $2.8 million was spent in renovating the existing pool and adding the waterpark features: splash deck, lazy river, slides, zero depth, and concessions stand. Given the new features at the facility, it was renamed Last Chance Splash Waterpark and Pool at Memorial Park.
Electric City Water Park, Great Falls
Beat the heat with a wet and wild day of fun in the sun! The Electric City Water Park is home to the largest heated outdoor swimming pool in the state, along with a children's play area, a lazy river, and the ever-popular Flow Rider (body boarding).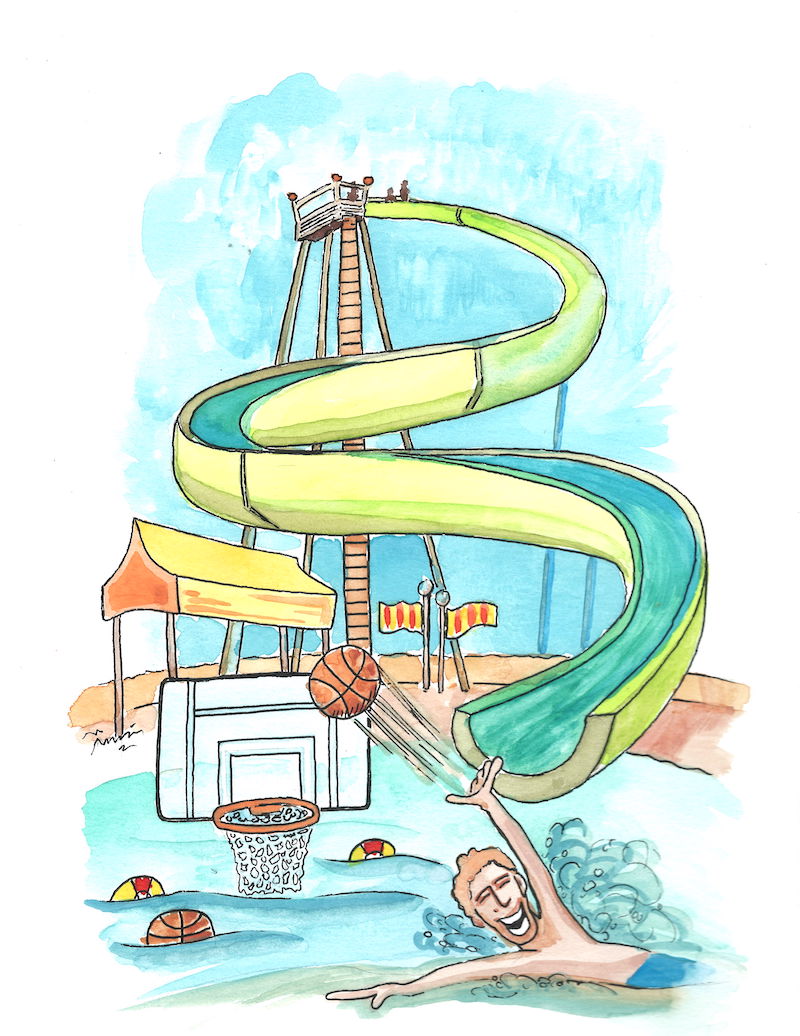 Oasis Waterpark, Billings
The Oasis is Billings' most extensive outdoor water park, with two body slides, current channel, interactive play features, and a toddler pool. Water is heated to a comfortable 83 degrees, and the park offers a great food selection as well.
The Reef Indoor Water Park, Billings
The size of a football field, the Reef Indoor Water Park is Montana's largest indoor water park. The three-story Barracuda
Blaster and the Tropical Twister launch visitors into the plunge pool. A water basketball court and 55,000-gallon wave pool offer some competitive fun. Little swimmers have an interactive playhouse designed just for them, with slides, mini- tubes, squirt guns, tunnels, and a 250-gallon dumping bucket!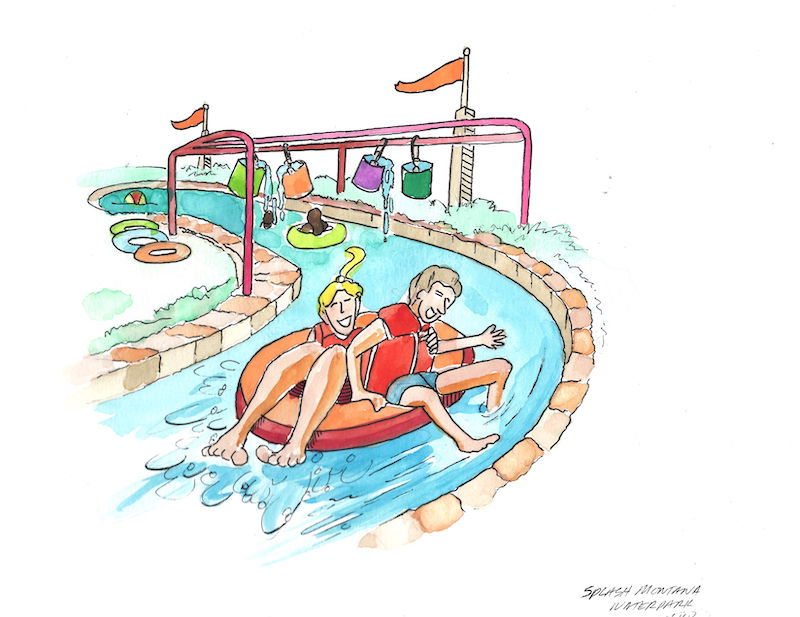 Splash Montana, Missoula
Three exciting three- story waterslides, spray features, and a lazy river (with a wild river branch) make the summer hours fly by at Splash Montana. Kids will love the Grizzly slide, log walk, floating otter, and water snake. Competitive swimmers will enjoy a day on "The Lake"—an Olympic-sized pool with 50-meter and 25-yard lap lanes.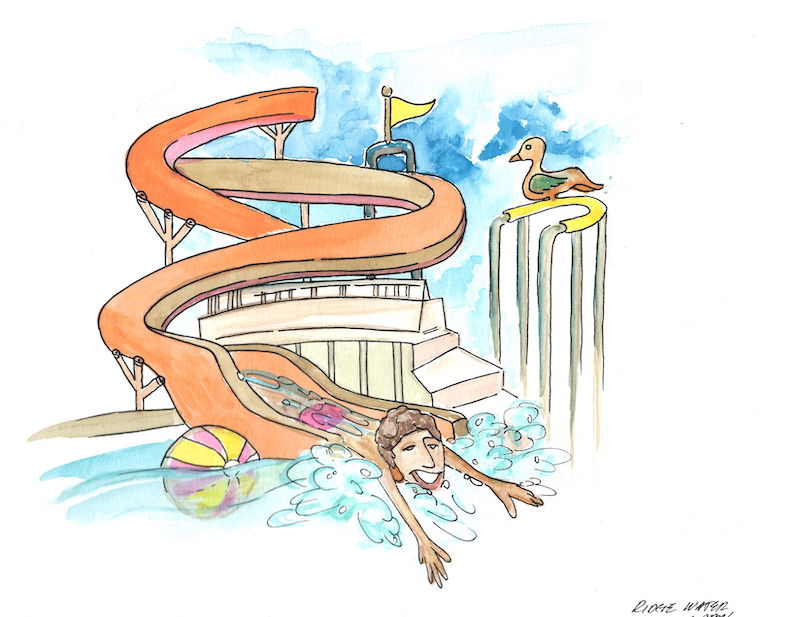 Ridge Waters Water Park, Butte
Located in Butte's Stodden Park, Ridge Waters features two water slides, a diving board, a lap pool, and a winding lazy river. Sporty guests will enjoy water basketball and volleyball, as well as Ridge Waters' climbing wall. A gusher jet and play structure for kids will keep young ones smiling in the summer sun.
Woodland Water Park, Kalispell
The Woodland Water Park's zero-depth entry and water features make it perfect for young children. Visitors can get their blood pumping on the park's three-story waterslides or relax on the lazy river. Outside of the water park, Woodland Park offers other family fun, with picnic shelters, playground equipment, a pond, a skate park, and pedestrian/ bicycle trails.