By 2013 Tamee Havrilla had lost two brothers to cancer and was battling breast cancer for the second time. This series of tragedies seemed like a string of bad luck but Tamee's oncologist at the Sletten Cancer Institute in Great Falls suspected there might be more to it. He asked if Tamee had ever been genetically tested for BRCA1 and BRCA2 – hereditary genes that prevent damaged DNA from healing properly. Having not received the test before, Tamee submitted her blood for testing and the results found that she did in fact carry the BRCA1 gene.
With a double mastectomy, Tamee was able to beat cancer for a second time and her BRCA testing has made her family aware of how vigilant they must be in cancer detection and prevention themselves. BRCA1 and BRCA2 genes have a 50 percent chance of inheritance, meaning that one out of every two children is likely to inherit the gene from a BRCA1 or BRCA2 carrying parent. Both genes are mutated tumor suppressors, each distinguished from the other by their location in chromosomes and the types of cancer they are associated with. In women, both BRCA1 and BRCA2 pose a lifetime risk of up to an 85 percent chance of developing breast cancer.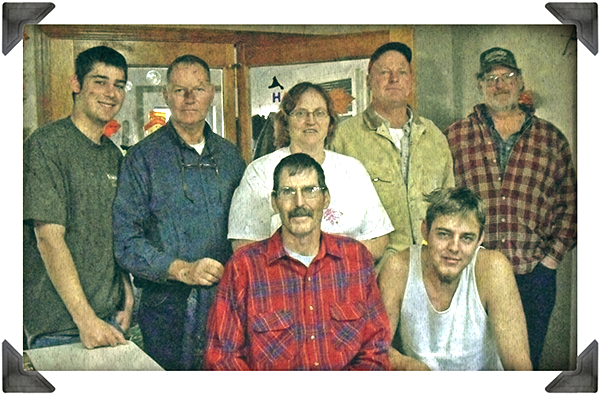 Front row (left to right): Wesley and Charles (Wesley's oldest)
Back row (left to right): Cabel (Wesley's youngest) Marvin, Tamee, Keith, and Patrick Wesley passed Nov 6, 2011 (colon cancer) and Keith passed Aug 17, 2012 (kidney cancer).
"When I got breast cancer the first time I didn't know some of the signs," says Tamee. "I was better prepared the second time and more vigilant because of it."
Thanks to Tamee, her family knows to be more vigilant as well. She has talked with her nieces and nephews about the BRCA1 gene and they know to be aware of cancer indicators. Tamee also encourages all women, 30 and older, to get mammograms. Having been through breast cancer twice, she has a much better understanding of her health and the disease which she has overcome, allowing her to be a model of support for her family and for those in the fight against cancer.
If your family has a history of cancer, you may want to talk to a doctor about being tested for BRCA1 and BRCA2 yourself. And for those who have friends and family battling cancer, Tamee has some insightful tips on how to offer them support:
Visit often. Say, "I'm here for you."
Don't offer advice if you haven't been through cancer.
Instead, be an ear to listen and a shoulder to cry on.
Be positive and have faith (regardless of what type of faith you have).
Bring little gifts. A scarf, a flower, or even a poem can go a long way in making someone's day.